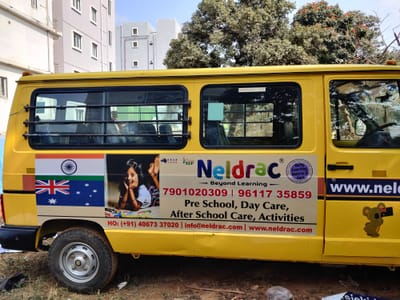 School buses have always been common and one of the most preferred modes of transportation for school children.
School buses have always been a common and one of the most preferred modes of transportation for school children. Parents all across the globe are using services of school buses to pick and drop their kids for past few decades.
But still, when it comes to deciding whether or not to use services of a school bus for kids, many parents find it difficult to make a decision.
If you are also finding it hard to choose a mode of communication for your kid for their school, then here we are listing a few benefits of school buses to help you make a choice.
Benefits of School Buses for Parents
1. Always on time
One of the most important benefits of school buses is that they arrive on time. Every morning, you know when the bus will be at the stop to pick your kid. So accordingly, you can manage your timing and ensure that your little one reaches school on time.
On the other hand, when you choose to pick and drop your kid on your own, managing time becomes a little tricky.
2. Our school bus has GPS systems
GPS system on a school bus means you can always track the location of your kid. The GPS tracker empowers parents to know their child's location and give them peace of mind.
At the same time, it is a blessing in times of emergency; parents can easily track where the bus is and can reach the location immediately.
3. Kids make new friends
From a young age, kids get to learn a lot of new things. And when they travel in school buses, they not just make new friends, but they learn sharing, companionship and how to make new friends.
These things will help them for years to come. For school going kids', school bus is usually the best place where they get to meet new kids and make friends.
4. Kids learn to take care of their things:
When kids use school buses, they learn to take care of their personal belongings, like a school bag, water bottle, and lunch box. This helps them in their overall development and well-being and makes them a responsible and independent individual.
5. Kids learn to manage their time
School buses daily come at the same stop on same time. As a result, kids become very conscious and careful about the timing and learn to complete their things on time.
They get ready on time to make sure that they catch their bus. Also, another motivating factor to catch the bus on time is the friend circle they have on their bus.
6. Parents have complete peace of mind
When using services of school buses, parents can rest assured about the conveyance and safety of their kids. They don't have to worry about daily commute of their kids and to manage their to-do list according to the timing of the school.
They can easily carry on with their tasks and personal commitments with complete peace of mind that the school bus will pick and drop their kid on time, without a miss no matter what.
Benefits of School Buses from School's Point of View
1. Classes can start on time
When you have school buses, you can be assured that kids and teachers will be on the school premises on scheduled time. This makes the daily schedule as smooth as possible.
2. Keep parents updated on their kids' location with a GPS system
With GPS system we can always keep parents updated about the location of their kids. They can check if the bus is following the given route and is on time. This creates a level of trust and parents become assured about the safety of their little ones.
Few General Benefits
1. Lesser Vehicles on the Road
When transporting a school student to and from school, parents need not take their vehicle out during the peak traffic hours.
2. Better Environment
When there is less number of vehicles on road, the emissions from vehicles are also reduced. Vehicle emissions include dangerous gases such as carbon monoxide, which has severe negative effect on the environment.
As school buses make it unnecessary for parents to transport students to and from schools, a significantly lower number of cars are there on the road, reducing the overall carbon footprint drastically. Thus, school buses contribute to a better environment.

3. Lower Accident Rate
Many studies over the years have repeatedly stated that school buses have a significantly lower number of accidents on road compared to students travelling by cars.
Our Drivers
We only hire experienced school drivers carrying all the required licenses and permits with them all the time, they are trained again on safety aspects whilst on roads with the school bus and especially children in it.
Our drivers are also trained to keep conscience of other commuters on road and our bus keeps some tools to help any other commuter with a broke down vehicle provided our bus has no kids in it.
Please note: Any commuter is free to contact us if they find any rash or irresponsible driving from our drivers
---