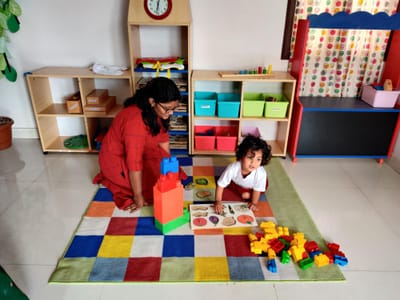 Mum & Bub Date
Making mummy friends is not easy. Preparing to impress them by hosting the mother of all playdates at our place is even harder. But it can also be a fun way to spend the morning and provide both mum and bub with some social stimulation.
At Neldrac, we run regular group meetings for mothers and their new born. This would help mothers get out of the house and provides them with a chance to share advice on handling children, share how to handle problem situations but importantly provide them the chance to socialize with other mothers. This can be quite therapeutic and help to relieve stress.
So, every Wednesday around 9Am we have a 45minutes session of Mum & Bub Play date where a mum can visit the centre with her bubby (Up to 12 months) and here's how we do it:
| Time | Program |
| --- | --- |
| 10 mins | Free Play |
| 5 mins | Welcome activities with songs |
| 15 mins | Story with sensory activities |
| 10 mins | Mums & bubs activities |
| 5 mins | Bye-Byes with songs |
While the mothers chat, their children are insight and playing with other children of their own age, A safe area is established and games and toys are there to by enjoyed.
---
Who can attend the program?
Mum & Bub is designed for mothers with babies, and infants aged children. They can be accompanied by mothers, fathers, grandparents, nannies or other carers. Neldrac's Mum & Bub are inclusive, providing welcoming supportive environments for all families to come together regardless of cultural, social or economic backgrounds.
---
For more information visit your nearest branch or contact us
here